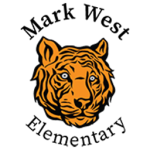 Spanish Version Available Here
Tiger Tales
Mark West Elementary January 21, 2022
From the Principal's Desk
Dear Mark West Families,
Thank you for your patience and care with this round of covid-19! I appreciate that parents are keeping their kids home when sick and testing as necessary. Together, we've got this! As a reminder, the District offers testing for District students on: Mondays 1:30-4:00, Wednesdays 1:00-3:00 and Fridays 1:30-4:00 at the Mark West Learning Center, located in the Riebli Parking lot. You need to have pre-registered your child to have them test. If you have not used the District site before, and would like to, Register Your Child Here
Happy New Year!
TK-Kinder Information Night
I hope that all who participated in the virtual Kinder/TK Information Night found the presentation useful. The TK/Kinder Video and a recording of the TK/Kinder Information Night is available on the district website. https://mwusd.org/parent-resources/ Now it's time to register those kiddos! If you have friends or relatives that have TK/Kinder age students, please direct them to our website: https://mwusd.org/ TK and Kinder enrollment is online. Please check the District website or use the link to register your TK or Kinder aged child: https://markwestusd.asp.aeries.net/air/ Note the age change for TK! Transitional Kindergarten (TK): Child's birthdate must be between September 2, 2017 and February 2, 2018 Kindergarten: Child's birthdate must be on or before September 1st, 2017
From the Lunchroom
Lunch Menu Available Online To find the school lunch menu, go to the District website (mwusd.org), hover over [Parent Resources], then select [School Lunch Program, Resources, & Monthly Lunch Menu] from the menu. School lunches are free to all students – no need to sign up! Students order lunch with their teacher in the morning and come pick up a lunch from the cafeteria at lunchtime. **Please remember to send your student to school with a snack.**
Green Team
Did you know that Mark West students are leading the way for the District in their efforts to reduce, reuse and recycle? What began as a project in third grade is now impacting students from TK through 8th grade! Every snack and lunch recess, students separate their trash, compost, and recycling, depositing all in the appropriate bin. Third, fourth and Middle School students help students in this task. They are supported by many teachers, from kinder through eighth grade. Thank you to all for making a difference!
Mark West Education Foundation
Please encourage 4th-6th grade music students to keep practicing and filling out their BINGO charts. They can win prizes for practicing and singing or playing their instruments for others! We will have some kind of performance at the end of February, but at the moment, we are uncertain what it will look like.
Stay tuned!
Make Music, Eat Polenta! Save the date for our Polenta Feed fundraiser on Saturday, March 12! We are also looking for volunteers as well as donations for our raffle and silent auction for this event. Do you have connections to a business that can donate? Can you lend a hand at the event? Please let us know if you can help by emailing Shannon or Jason at mwef@mwusd.org. Help us keep music education alive in the Mark West School District!
Substitutes Needed
Come help out at school and get paid to do it! We have substitute positions available in the classroom, on the yard, in the library, the cafeteria, and the office. The schedule is flexible – work as little or as much as you like. Stop by the school office to pick up an application or by the District Office (305 Mark West Springs Road) to talk to Marcia Noxon about signing up today!
Safe Routes To School
The theme for the month of January is "Idle Free!" Next Walking school Bus is February 2nd! Walking School buses will leave from Sam's Market at 7:50 and SaddleBrook at 8:00. Walk and Roll Wednesdays and Walking School
Bus Dates:
Feb. 2nd
Mar. 2nd
Apr. 6
May 4
Sports
5th-6th grade Boys Basketball tryouts are underway. This year we are playing as a District Level Intramural mini-league. Mark West will be competing against San Miguel and Riebli Elementary Schools, playing each school twice. After the boys finish their games, we will begin with our girls, followed by a co-ed Volleyball mini-league. The kids were so excited to be able to participate in sports again.
Noon League Handball Tournament is just around the corner! 50 students in grades 4,5, and 6 have signed up to compete! Let the games begin! A Huge "hats off" to our own Mr. Ryan and Mr. Graves for running this wonderful program that is unique to Mark West The kids began with Flag Football in the Fall and will finish the year with Whiffle Ball. Noon League games are the highlight of many kids' memories from Mark West and we know we couldn't do it without Mr. Graves and Mr. Ryan!
Student Council
Our last Spirit Day, in honor of Dr. Martin Luther King Jr. was to "dress as your dream". So many kids were very creative in their ideas. My dream that I shared with students was that each and every student is able to pursue their dream. To continue their education and become whatever they want to become! The next Spirit Day is January 26th. Wednesday is the 100th day of school, so wear celebrate with 100- dress as a 100-year-old person or wear 100 items, for example; 100 bows, 100 rubber bands in your hair, 100 stickers or stamps. Get creative!
Important Dates
1/24 PTA Board Meeting
1/24 2022-2023 Online Enrollment for NEW students in grades 1st-6th open at 5:00pm.
1/26 Hundreds Day
2/14 Lincoln's Birthday Observed- no school
2/21 Presidents' Day no school
Archives